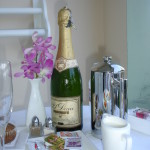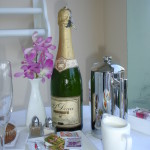 My Travel Blog – 5/16/2014  Sorry to be over a week behind on my blog.  Sometimes the travel business takes on a life of it's own and the best planned schedule goes out the window.  That was last week.  But out f all the chaos we will hopefully have some exciting new business!
Sandals, Beaches, and Grand Pineapple Updates
I thought I would focus my blog this week on Sandals, Beaches, and Grand Pineapple resorts since our agency just renewed our certification training with Sandals.
First of all Sandals is the only resort that provides annual face to face training on a yearly basis for travel agents. I think that is so important and speaks to the level of professionalism and commitment of this wonderful family owned company!
This Wednesday we attended a 5 hour training in Hunt Valley, MD on Sandals resorts.  I would like to cover a few things that I think are important to know if you are thinking about staying at a Sandals, Beaches, or  Grand Pineapple resorts.
Sandals has what they call "Discovery Dining". 
I know, I know "There she goes talking about food again" what can I say I love to eat!
156 individual restaurants spanning 19 different international cuisines
Up to 19 restaurants per resort
Authentic chefs from around the world
Jamaican Blue Mountain Coffee served everywhere at all resorts
Keep in mind:  Lobster is only served when in season!  Note these government closures:
Jamaica closed from April 1 to June 30
WHAT WAS I THINKING? I WILL BE IN JAMAICA WHEN THERE IS NO LOBSTER!  LOOK OUT SHRIMP!
Bahamas and Turks and Caicos closed from April 1 to August 1
St. Lucia closed from March 1 to August 1
Grenada closed from May 1 to August 31
Antigua and Barbados no closures
Room Service is available from 7:30Am to 10 PM at Sandals when staying in a Club category room (this is new!)  And 24 hours a day at Sandals or Beaches when staying in a butler room.
Worry-free planning for food allergies and special dietary requirements:
Your travel agent can email the chef ahead of time to let them know about your dietary requirements
Most Sandals and Beaches resorts have a CULINARY CONCIERGE DESK for personal meal planning
Guests can meet one on one with the chef at all Sandals, Beaches, and Grand Pineapple resorts
What kind of cuisine can you expect at Sandals, Beaches, and Grand Pineapple resorts?
Asian, Italian, Classic French, French Brasserie, French Patisserie, Southwestern, Caribbean, Mediterranean, Seafood, Buffet, Pizzeria, Grilled Specialties, English Pub, Seaside Grills, 50s Diner, Chefs Table, International, Flambe', Steak House
OK if you cannot find something to eat, I do not know where you could.
Bars and Beverages
Unlimited Premium Brand Liquors are always included!
Up to 9 bars per resort
Imported and local beers (I love the lagers brewed in Antigua!)
Partnerships with Appleton Estate Rum and Beringer Wines
 time.  What could be more enjoyable than dining by the sea, listening to the waves lap up against the shore enjoying a gourmet dinner with your complimentary Beringer wine and that special loved one across the table from you.  Oh I know following dinner up with a visit to the French Patisserie for a pastry and Blue Mountain Coffee!
I hope I have made you hungry and look forward to your questions on Sandals, Beaches, and Grand Pineapple resorts.  Next week I will be giving updates on the land and water sports programs as well as the spas and the exotic off shore islands.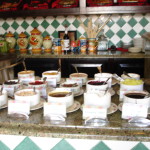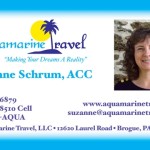 My Travel Blog 4/30/2014
It is still very hard for me to take a break from work and dedicate a little time to my blog.  I am proud to say that I made myself sit down and write my second blog.  Hopefully it gets easier each week.  I look forward to your thoughts!
Sandals Royal Plantation – Going Back
We recently decided to schedule a much needed vacation to Jamaica.  We will be staying at Sandals Royal Plantation.  We were lucky enough to stay there for three nights last year.  Three nights is not enough time to really get at home with a resort, so when the opportunity came for us to spend a week there this year we jumped at it!
I have been thinking more and more about our trip each day.  I have been to Jamaica around a dozen times and have spent most of that time using the incredible facilities of the resorts.  I love the food in Jamaica and am thinking it is time to explore some local cuisine!  I am looking forward to the authentic Jerk Ckicken at Scotchies, Juici-Beef Patties, and Ice cream at Devon House I-Scream.  I will probably limit myself to those options because the food at Sandals Royal Plantation should not be missed.
Sandals Royal Plantation has the best food of any All Inclusive resort that I have ever stayed at. 
You have to make sure you go to Le Papillon French Restaurant.  I highly recommend the Mixed Grill as your entrée.  You can dine inside or out on the covered terrace high above the resort.  Everything we ordered there was incredible.
The Terrace is a restaurant that has indoor dining as well as dining under the stars.  I did not have the opportunity to enjoy dinner there, but we had lunch and breakfast.  You have the option at lunch and breakfast to order off a menu or choose the buffet or a little of both.  Of course I usually combined the two.  Make sure you at least ask for a menu.  At breakfast they have mixed juice drinks that you can order.  They come in a shaker and then are poured in to a martini glass.  I really enjoyed the ones with ginger in them.  I also ordered chocolate chip coconut pancakes.  OK, Yes I am now dreaming about having those again.  My husband ordered a traditional English breakfast one day and let's just say he cleaned his plate off.
My favorite place to eat is on the beach and the Royal Grill is perfect for that.  You can sit at a table right beside the beach, you can sit at the bar and be entertained while you eat, or the beach butlers will take your order and bring your lunch right to your beach chair.  I have two favorites from the Grill, coconut shrimp and lobster BLTs.  OK now I am getting depressed that I have to cook tonight and nothing I am making is going to compare to Royal Plantation.
Two things that I did not get to do last year that are on my list for this year are trying the afternoon tea and going to the CBar for Caviar and Champagne. Why not???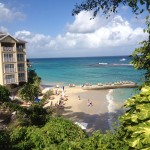 I will let you know a few more details about Sandals Royal Plantation just so you do not think my vacations completely revolve around eating.  I am a diver and thoroughly enjoyed going to Sandals Grande Riviera for many wonderful dives.  Our dive master was Semaj and he was super.  He told us he was our personal dive butler from the minute we met him and that is how he treated us.  I especially enjoyed going on a night dive with just Semaj and two other divers including my husband.  There is a complimentary shuttle to take you over to Grande Riviera for diving or anything else you want to enjoy there.
There are two beaches at Sandals Royal Plantation.  One is a smoking beach and one is nonsmoking beach.  The water sports are at the nonsmoking beach. We did not find it to be an issue to hang out there and we do not like smoke.
The Beach Butlers are awesome and you can tip them as well as your room butlers.  Every room at Sandals Royal Plantation has butler service.  If you have never had butler service, it can be a little uncomfortable at first until you come back to your room to a chilled bottle of champagne and a hot bubble bath.  I recently found a document that I will start handing out to all of my butler clients.  I think this will be a great tool to help those folks that are feeling uneasy about what to expect.  Please see that document at the end of the blog.
OK, I do not want to write a book about Royal Plantation even though I think I could.  If you are looking for a unique experience, you should consider Sandals Royal Plantation.  You will enjoy Sandals only All-Butler Boutique resort.  There are only 74 rooms and all rooms are ocean view.  You too can hang out at what used to be one of Ian Fleming's favorite hideaways.  I will have a sequel to this blog after my stay in June!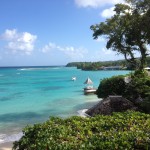 The Butler Elite Program
Available at all Sandals Resorts
Upon arrival, your personal butler will:
Greet you with lemongrass-scented hand towels to refresh you from your flight.
Offer welcome cocktails and culinary treats.
Escort you to your suite and coordinate luggage handling.
Provide you with all information regarding hotel facilities.
Handle private check-in comfortably in your suite.
Orchestrate any personal accommodation preferences.
Supply a cell phone to reach him/her when needed.
Present a Butler Elite Welcome Packet.
Provide a private resort orientation.
Offer to unpack your luggage.
Press your first nights clothes complimentary.
During Your Stay, Your Butler Will:
Make all dinner reservations, tour bookings, on property activities and spa treatments for you.
Reserve your beach or pool chairs.
Serve you your favorite drinks while you lounge on the beach or pool.
Serve you lunch on the beach or on the pool.
Liaise with housekeeping regarding the servicing of your suite.
Ensure that your suite is kept in perfect condition and arranged the way you like during your stay.
Expedite all room service orders.
Ensure your table is arranged in the restaurant of your choice for dinner.
Arrange a perfect romantic dinner for two in the privacy of your suite or your patio. Unlike our competitors, our
butler elite guests can order from any resort restaurant menu for dining in their room or suite.
Shine/clean your shoes for dinner.
Tend to your wardrobe.
Collect and return all laundry for you.
In the Evening, Your Butler Will:
Bring you amenities before dinner.
Escort you to dinner where they have reserved a beautifully decorated table at the restaurant of your choice with
preferential seating.
Ensure your suite is turned down and your room has all it needs for the night. Your Butler wants you to expect the unexpected "Prepare to be wowed"
Before Your Departure, Your Butler Will:
Arrange transportation back to the airport.
Provide you with information regarding check out.
Assist you in folding your clothes for packing.
Retain all your preferences for future visits.
At Departure Time, Your Butler Will:
Ensure your bags are brought up to the departure area.
Escort you to the Club/butler lounge and process your paperwork for check out.
Escort you to your transportation and bid you farewell.
My Travel Blog 4/24/2014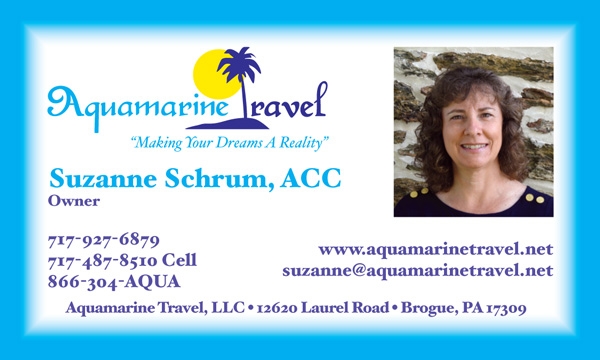 I recently decided that I wanted to write a travel blog with travel tips and information from my personal travel experience.  I have been procrastinating on doing this for quite a while. I hope that you enjoy my first blog!  I look forward to your thoughts!
Making Travel a Priority
I had a meeting with my financial planner recently.  He has been graciously assisting me with my marketing plan.   By the way, a travel blog is part of my new marketing plan now.  I told him how the travel industry is drastically affected by any negative news on the economy.  He was surprised because the majority of his clients list travel as one of their top three priorities or goals.  The other two were money for education and money for retirement.
If travel is so important to so many people, why then are people so quick to give up travel when times get a little tough.  Some studies show that travel is the first thing cut out of discretionary income during tough economic times. This year started out with lots of people booking their dream vacations, but when the reality of huge heating bills hit, sales slowed down dramatically.
I believe that people do not plan or budget for travel even though it is one of their top 3 priorities for their money.  I think we need to make travel a priority, not just something we do if we can.  How do you make travel a financial priority?  It can be as easy as setting up an account that is just for travel, booking a trip two years ahead and making payments on it, or even just having a big jar that you put your spare change in labeled Disney World or Hawaii or whatever your dream vacation is.  I hope that you will consider making travel a priority in your life.
"To travel is to live." Hans Christian Andersen
Read below, from Fox News
 Orlando
Here's a scam so bad even Mickey Mouse took a stand. Guests in hotels around Disney World have been finding pizza delivery menus conveniently slipped under their doors, but place an order–and make the mistake of giving your credit card number–and you'll really pay. The phone number isn't connected to a pizza parlor but to identity thieves. Disney World supported a law designed to crack down on the people handing out the fliers, but Orlando police say the problem persists.
Solution: If you're craving a slice, get a recommendation from the hotel.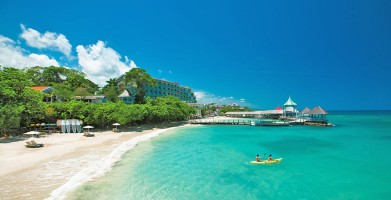 Planning a Getaway?  Get Here First!
When it comes to getaways, Sandals delivers a world of options – in the world's most breathtaking locations.  From secluded beaches to family-friendly resorts, Sandals Luxury Included® Vacations offer more quality inclusions for the most fun in the sun!
Atmosphere, amenities, activities – as Certified Sandals Specialist Travel Agents you can trust us to tailor your vacation or honeymoon to your dreams and desires.  Rest assured we'll match you with the perfect Sandals or Beaches Resort.  As we know, one size fits only one!
Before you book, join us for an insider's look; meet the Sandals Resorts expert who just returned from the Caribbean and take advantage of special perks only available to those who attend.
RSVP:
Aquamarine Travel                 717-927-6879                suzanne@aquamarinetravel.net
Event Info:
February 20, 2014
6:30 PM
Heritage     Hills Resort Windows Ball Room                                                  2700 Mount Rose Avenue                         York, Pennsylvania 17402
Take advantage of these incredible savings offers!
$250 spa credit
Up to $555 airfare credit
Up to 2 free nights
Free Couples Massage
Unlimited complimentary golf
Savings up to 65% off
10,000 Sandals Select Points ($250 value)
Agency Info:
Aquamarine Travel                 717-927-6879     suzanne@aquamarinetravel.net
*Offers are subject to availability throughout promotional period, applicable to specific          resorts, room categories and based upon a minimum night stay.  Offers may be changed or withdrawn at any time. Other restrictions and limitations may apply.
Sandals Grande St. Lucian Review 11/3-11/10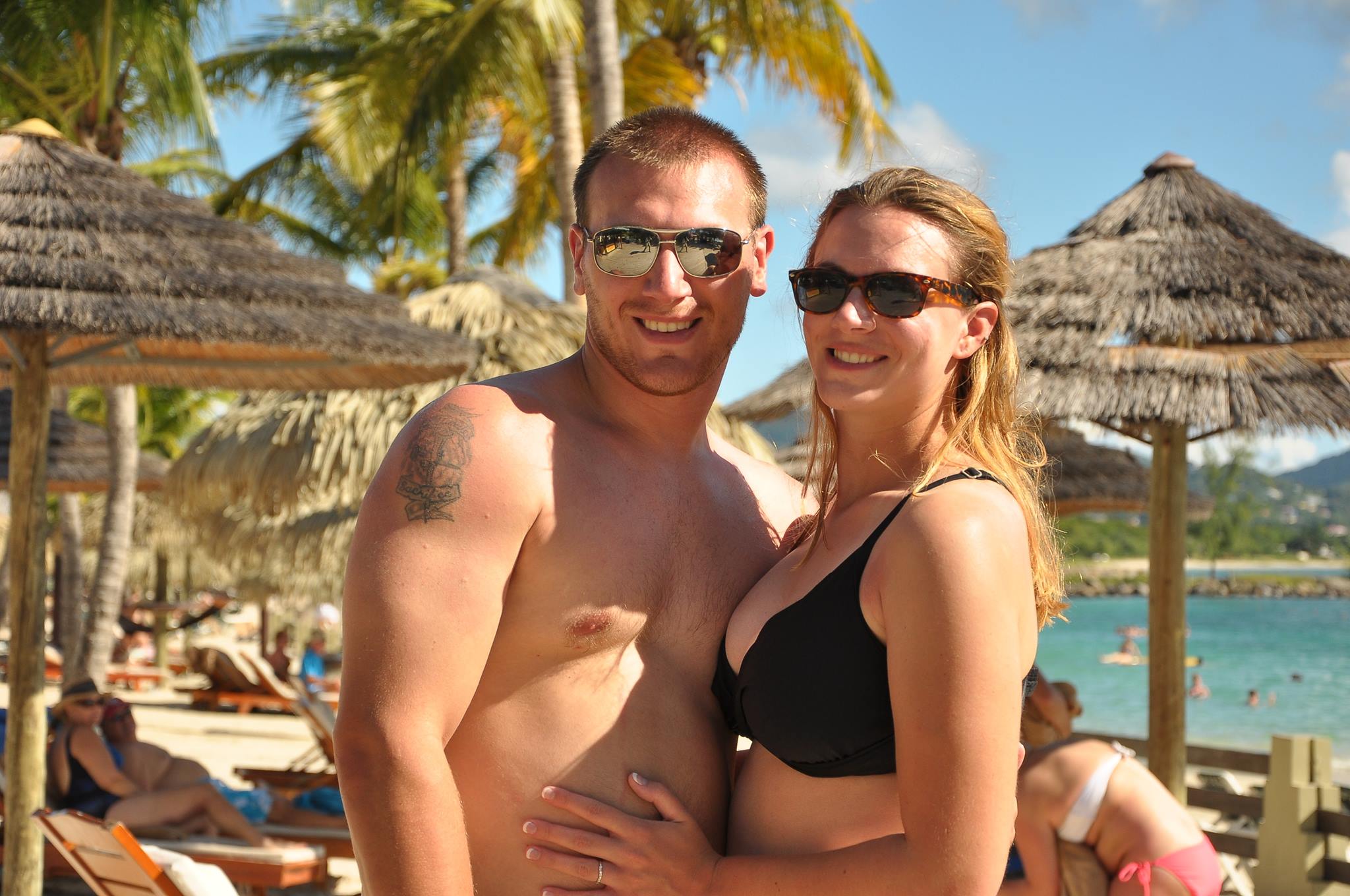 My husband and I recently stayed at the Sandals Grande St. Lucian for our honeymoon for a week in early November. We flew out of BWI, had a connection in Miami, then right to the island. The flights were not long however in between the transfer, it did take at least 8 hours total. The airport in St. Lucia (Hewanorra International) is very easy to navigate since it is quite small compared to U.S. airports. You get whisked away quite quickly to the Sandals lounge and then we only waited about 10 or so minutes for our shuttle. This is something we really, really wished we would have opted for another mode of transportation. The ride from the airport is at least an hour and a half, longer if you are dropping other travelers off at separate Sandals resorts. There is an option for a private helicopter transfer, at an additional cost, which I'm sure has spectacular views and take significantly less time. Something I would recommend!
Our initial impression of the resort once we checked in was "WOW!".  You can see  the beach and the bay from the lobby and it is simply beautiful! The check in process was very easy and we were taken right to our room. I personally did not like the fact that they would bring our luggage down to our room because it took a little long and by the time we were finally in our room, we wanted to shower and get some dinner. Our room was fantastic, we had the Honeymoon Walkout room that lead right out into the gardens. We could see the beach from our porch and the hot tub/side pool was only a few steps away! The bed was extremely comfortable, the room was spacious enough for two, and the bathroom was large enough for us not to be in each other's way. The shower worked well, however it could use with some repairing for a few "well worn" spots.
The grounds of the resort were beautiful, well decorated and very clean. The pools were never dirty or overcrowded and the pool bar service was very quick. The towel hut was always stocked with beach towels (note to self, don't bring personal towels next time… we never used them!) We were very happy with the quality of the beach, it was clean and never once was it over crowded! They had water hammocks in the water and we never had to wait too long to go relax in one. The beach is not private so there are solicitors selling tours/activities/souvenirs. Usually if you were not interested, they were friendly and let you be…No pressure, no problem! There was one or two guys that were pretty persistent,  however it was never much of a bother to us. I would recommend that if you want a prime beach or pool spot under a nice shaded palm tree or under a covered hut, definitely get up early and go put a towel on your chair. We did notice that people were "reserving" their spots by 7AM, so if you have a favorite spot be sure to get your towel out there early.
The food and restaurants were excellent, however sometimes the service could be a little slow. One or two times we felt like we had been forgotten,  once at Toscanini's and another at Bayside (dinner service). We definitely had our favorites, Dino's pizzeria was phenomenal…I wish we had one at home! They are only open for lunch service from 11am to 4pm. We also went to Sandals La Toc for dinner at the Japanese Kimonos, a  hibachi style restaurant. This was hands down our best meal, the chef we had was funny and very good! The food was excellent and we were lucky to have a lively table.  We found that the desserts were average, not our favorite part. However, I think we tend to "over sugar" our desserts in the U.S. so anything abroad may not be the same.
We had met with the sales manager, Nadia, while on our stay and did a site tour of some of the larger suite options. The first suite was the One Bedroom Butler suite, what an excellent room with a separate living area and two bathrooms. A fully stocked mini bar and extended balcony are excellent additions to this room. The balcony looked directly out onto the beach, beautiful views! The second was the Swimup Lagoon, it was the same size as our suite but instead of a porch there was a small landing and a few steps right out into one of the more quiet pools. It's very serene and peaceful, complete with two pool rafts for your own use. These rooms did not have any views of the beach, but as I previously said it's excellent if you want a quiet private space to relax. The last suite we saw was the Rondoval suite… we were blown away by this room! It is essentially your own little house, completely circular with excellent bathrooms,  sleep space, and butler service. There's a personal "backyard" area with a personal Jacuzzi and dip pool. Also, there are misters on the roof to help keep you cool and an outdoor (private!) shower! We had definitely wished we would have booked this room, but do not be fooled by the pictures Sandals has online. The pictures depict walking out right from your balcony to the beach, however there is a privacy fence in place so you would have to exit around the "village" to access the beach.
This is an exceptional resort for honeymooners or anyone celebrating an anniversary. The whole vibe of the resort is very romantic and since there are many honeymooners there you can feel the love. I never realized what a difference it makes staying at an adult only resort, but it was excellent to not have kids running around and splashing in the pools. A very large perk if you're trying to relax with your new spouse! All the other couples we had spoken with were very happy with the resort, one British couple said "This looks just like a postcard!" We had also spoken to one or two couples who had gotten married at the resort and they raved about how wonderful the wedding department staff was and the ease of planning.  This resort is not well suited for a "quick vacation" since it is currently the furthest Sandals from the U.S. But I would definitely recommend very highly for a week or longer stay, especially for a honeymoon or anniversary trip.
We cannot highly praise this resort enough, I would be more than happy to share any of our photos of the resort and beautiful St. Lucia. Please feel free to contact me for any information about Sandals Grande St. Lucian…I'd be more than happy to help you plan your dream Caribbean vacation! Email me at: E.kesslerwhitmarsh@gmail.com or my phone number at 717-779-5377.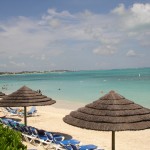 Top 4 Reasons to visit Turks & Caicos according to Fodor's Caribbean Guidebook:
Even on well-developed Provo, there are still miles of deserted beaches without any footprints
or beach umbrellas in sight.
The third-largest coral reef system in the world is among the world's top dive sites.
Island-hopping beyond the beaten path will give you a feel of the past in the present.
Destination spas, penthouse suites, and exclusive villas and resorts make celebrity spotting
a popular sport.
I wanted to take a minute and give a little feedback on Couples San Souci in Ocho Rios Jamaica. I recently stayed at the resort to be a part of my cousins wedding. This resort is very beautiful and very intimate. Rooms have the true caribbean feel and decore is very laid back. You won't find glitz and glamour with tons of marble and granite and sparkles..what you will find is comfortable beds…very caribbean colors and beautiful grounds worth taking your time to enjoy. The downside to this is I would not recommend this resort to those that might have issues with walking stairs. You can use a shuttle but sometimes you don't want to have to wait so to get certain places there are a good bit of stairs because part of the resort is built on a bluff which is why I love it.
There are 3 restaurants for evening dining and all serve very good food. Also room service is available until 11 and then at the beach grill you can get snacks until 6am so you should never go hungry. There is also a beach grill available on the Au Natural side if you are there during the day.
My cousin got married on the gazebo that sat up on the bluff and the view and sounds were stunning. It was what I would call picture perfect and the wedding staff did a wonderful job in making her day special.
They also took advantage of the free scuba class and dive and her husband enjoyed it…she decided it was not for her. If Scuba is not your thing they do offer two snorkeling trips a day as well as glass bottom boats..water tricycles, kayaks and other options that are all included in your price.
Couples also includes some excursions and they vary depending on which resort you are staying at. We did Dunns River and had a blast. I would recommend this tour to everyone at least once..kinda cool how the falls runs right down into the ocean like it does.
There is also a large pond on property which my husband and I loved visiting daily to feed the fish and turtles that ate right from our hands…
If I had to post any negative comments it would be the drive from the airport is quite long but if you want this area you are going to have the drive whereever you stay and there is a lot of steps…also the evening entertainment I felt was a little lacking but we were normally to tired from enjoying all the day had to offer to really enjoy it. If you are looking for a charming resort with true Jamacian feel and great service and food this would be the resort for you.

Top 4 Reasons to Visit Antigua" according to Fodor's Caribbean Guidebook:
1 Paradisiacal beaches of every size provide a tremendous selection for an island its size.
2 Some islands may offer more attractions, but Nelson's Dockyard alone is one of
the Caribbean's best examples of historic preservations.
3 With several natural anchorages and tiny islets to explore, Antigua is a major sailing center.
4 Activities galore: land and water sports, sights to see, and nightlife.
This is a quick update we received from our agent Deb Ball who is touring the islands of Tahiti "yesterday I caught 2 sharks then we swam with them. I even held one that was caught. Tell everyone hi for me….wishing you were all here!"