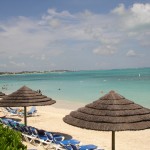 Top 4 Reasons to visit Turks & Caicos according to Fodor's Caribbean Guidebook:
Even on well-developed Provo, there are still miles of deserted beaches without any footprints
or beach umbrellas in sight.
The third-largest coral reef system in the world is among the world's top dive sites.
Island-hopping beyond the beaten path will give you a feel of the past in the present.
Destination spas, penthouse suites, and exclusive villas and resorts make celebrity spotting
a popular sport.