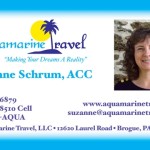 My Travel Blog 4/30/2014
It is still very hard for me to take a break from work and dedicate a little time to my blog.  I am proud to say that I made myself sit down and write my second blog.  Hopefully it gets easier each week.  I look forward to your thoughts!
Sandals Royal Plantation – Going Back
We recently decided to schedule a much needed vacation to Jamaica.  We will be staying at Sandals Royal Plantation.  We were lucky enough to stay there for three nights last year.  Three nights is not enough time to really get at home with a resort, so when the opportunity came for us to spend a week there this year we jumped at it!
I have been thinking more and more about our trip each day.  I have been to Jamaica around a dozen times and have spent most of that time using the incredible facilities of the resorts.  I love the food in Jamaica and am thinking it is time to explore some local cuisine!  I am looking forward to the authentic Jerk Ckicken at Scotchies, Juici-Beef Patties, and Ice cream at Devon House I-Scream.  I will probably limit myself to those options because the food at Sandals Royal Plantation should not be missed.
Sandals Royal Plantation has the best food of any All Inclusive resort that I have ever stayed at. 
You have to make sure you go to Le Papillon French Restaurant.  I highly recommend the Mixed Grill as your entrée.  You can dine inside or out on the covered terrace high above the resort.  Everything we ordered there was incredible.
The Terrace is a restaurant that has indoor dining as well as dining under the stars.  I did not have the opportunity to enjoy dinner there, but we had lunch and breakfast.  You have the option at lunch and breakfast to order off a menu or choose the buffet or a little of both.  Of course I usually combined the two.  Make sure you at least ask for a menu.  At breakfast they have mixed juice drinks that you can order.  They come in a shaker and then are poured in to a martini glass.  I really enjoyed the ones with ginger in them.  I also ordered chocolate chip coconut pancakes.  OK, Yes I am now dreaming about having those again.  My husband ordered a traditional English breakfast one day and let's just say he cleaned his plate off.
My favorite place to eat is on the beach and the Royal Grill is perfect for that.  You can sit at a table right beside the beach, you can sit at the bar and be entertained while you eat, or the beach butlers will take your order and bring your lunch right to your beach chair.  I have two favorites from the Grill, coconut shrimp and lobster BLTs.  OK now I am getting depressed that I have to cook tonight and nothing I am making is going to compare to Royal Plantation.
Two things that I did not get to do last year that are on my list for this year are trying the afternoon tea and going to the CBar for Caviar and Champagne. Why not???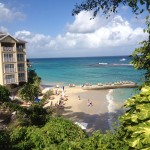 I will let you know a few more details about Sandals Royal Plantation just so you do not think my vacations completely revolve around eating.  I am a diver and thoroughly enjoyed going to Sandals Grande Riviera for many wonderful dives.  Our dive master was Semaj and he was super.  He told us he was our personal dive butler from the minute we met him and that is how he treated us.  I especially enjoyed going on a night dive with just Semaj and two other divers including my husband.  There is a complimentary shuttle to take you over to Grande Riviera for diving or anything else you want to enjoy there.
There are two beaches at Sandals Royal Plantation.  One is a smoking beach and one is nonsmoking beach.  The water sports are at the nonsmoking beach. We did not find it to be an issue to hang out there and we do not like smoke.
The Beach Butlers are awesome and you can tip them as well as your room butlers.  Every room at Sandals Royal Plantation has butler service.  If you have never had butler service, it can be a little uncomfortable at first until you come back to your room to a chilled bottle of champagne and a hot bubble bath.  I recently found a document that I will start handing out to all of my butler clients.  I think this will be a great tool to help those folks that are feeling uneasy about what to expect.  Please see that document at the end of the blog.
OK, I do not want to write a book about Royal Plantation even though I think I could.  If you are looking for a unique experience, you should consider Sandals Royal Plantation.  You will enjoy Sandals only All-Butler Boutique resort.  There are only 74 rooms and all rooms are ocean view.  You too can hang out at what used to be one of Ian Fleming's favorite hideaways.  I will have a sequel to this blog after my stay in June!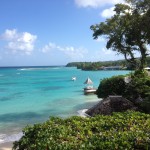 The Butler Elite Program
Available at all Sandals Resorts
Upon arrival, your personal butler will:
Greet you with lemongrass-scented hand towels to refresh you from your flight.
Offer welcome cocktails and culinary treats.
Escort you to your suite and coordinate luggage handling.
Provide you with all information regarding hotel facilities.
Handle private check-in comfortably in your suite.
Orchestrate any personal accommodation preferences.
Supply a cell phone to reach him/her when needed.
Present a Butler Elite Welcome Packet.
Provide a private resort orientation.
Offer to unpack your luggage.
Press your first nights clothes complimentary.
During Your Stay, Your Butler Will:
Make all dinner reservations, tour bookings, on property activities and spa treatments for you.
Reserve your beach or pool chairs.
Serve you your favorite drinks while you lounge on the beach or pool.
Serve you lunch on the beach or on the pool.
Liaise with housekeeping regarding the servicing of your suite.
Ensure that your suite is kept in perfect condition and arranged the way you like during your stay.
Expedite all room service orders.
Ensure your table is arranged in the restaurant of your choice for dinner.
Arrange a perfect romantic dinner for two in the privacy of your suite or your patio. Unlike our competitors, our
butler elite guests can order from any resort restaurant menu for dining in their room or suite.
Shine/clean your shoes for dinner.
Tend to your wardrobe.
Collect and return all laundry for you.
In the Evening, Your Butler Will:
Bring you amenities before dinner.
Escort you to dinner where they have reserved a beautifully decorated table at the restaurant of your choice with
preferential seating.
Ensure your suite is turned down and your room has all it needs for the night. Your Butler wants you to expect the unexpected "Prepare to be wowed"
Before Your Departure, Your Butler Will:
Arrange transportation back to the airport.
Provide you with information regarding check out.
Assist you in folding your clothes for packing.
Retain all your preferences for future visits.
At Departure Time, Your Butler Will:
Ensure your bags are brought up to the departure area.
Escort you to the Club/butler lounge and process your paperwork for check out.
Escort you to your transportation and bid you farewell.
My Travel Blog 4/24/2014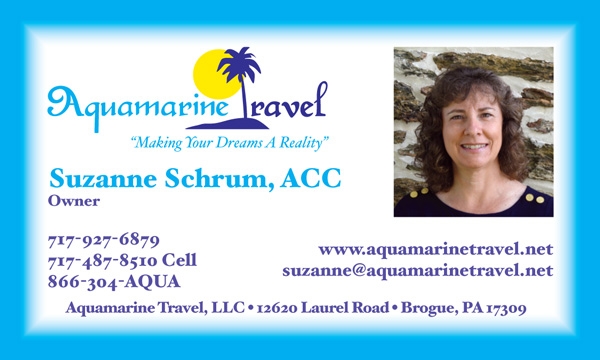 I recently decided that I wanted to write a travel blog with travel tips and information from my personal travel experience.  I have been procrastinating on doing this for quite a while. I hope that you enjoy my first blog!  I look forward to your thoughts!
Making Travel a Priority
I had a meeting with my financial planner recently.  He has been graciously assisting me with my marketing plan.   By the way, a travel blog is part of my new marketing plan now.  I told him how the travel industry is drastically affected by any negative news on the economy.  He was surprised because the majority of his clients list travel as one of their top three priorities or goals.  The other two were money for education and money for retirement.
If travel is so important to so many people, why then are people so quick to give up travel when times get a little tough.  Some studies show that travel is the first thing cut out of discretionary income during tough economic times. This year started out with lots of people booking their dream vacations, but when the reality of huge heating bills hit, sales slowed down dramatically.
I believe that people do not plan or budget for travel even though it is one of their top 3 priorities for their money.  I think we need to make travel a priority, not just something we do if we can.  How do you make travel a financial priority?  It can be as easy as setting up an account that is just for travel, booking a trip two years ahead and making payments on it, or even just having a big jar that you put your spare change in labeled Disney World or Hawaii or whatever your dream vacation is.  I hope that you will consider making travel a priority in your life.
"To travel is to live." Hans Christian Andersen